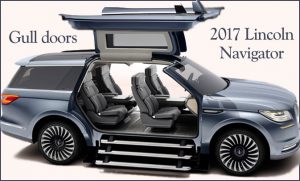 Concept cars are usually shown for years before they go into production.
Lincoln is changing that pattern. Its new Navigator SUV will go on sale in 2017 and will look like the concept car.
According to an attendee at the New York Auto Show, the Navigator drew actual gasps from the crowd when the doors opened like bird's wings.
Lincoln calls them gull wing doors which, when opened, let down a helpful series of concertina steps.
The doors cover most of the whole side instead of the hinged, side-opening doors.
The new Navigator also has a push-button shifter that designers compare to piano keys, a flat, retro center console and horizontally ribbed seats.