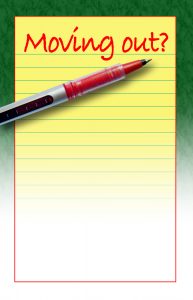 Step up strong with these six first steps
If you are ready for the adventure of selling your home and starting a new chapter in your life, congratulations!
It's going to be great. And some work. But still great.
Here are the first six steps you can take to get your home ready for sale.
1. Pack up, pick up:
Pack up pictures, knick-knacks, books, files, decorations, out-of-season clothing, old purses, and sports equipment. That includes extra sets of anything, including dishes, pans, vases, glasses, lamps, supplies and linens. Sell, store, or trash. You might even love this minimalist living.
2. Clean. And clean again.
Nothing sells like a clean house. That means corners, drawers, cabinets, and all fixtures. Detail!
3. Fix up.
Inspect, paint and replace as needed: floors, walls, baseboards, molding, light fixtures. Don't forget the landscape. Clean and tidy.
At this point, you might wonder about professional staging. You've seen it on TV: An earnest home stager backs up a moving truck filled with fine furniture and clever decor and suddenly the house is remade. People ooh and aah at the pretty picture it makes.
This is actually true. According to the Real Estate Staging Association, professionally staged homes sell five to six times faster.
Real Estate agents have heard plenty of skepticism about this from buyers who already are overworked getting their homes ready for sale.
You might think your decor will already make people say ooh and aah but experience says no. Your listing will bring people from outside your social circle who may not see home design your way. Neutral colors and fabrics help sell a home.
4. Plan to open your house to visitors.
Be ready to show your house. That means packing up the kids and pets when it is time. Make that plan early.
5. Get an inspection and spill your secrets.
Get an inspection before you put your home on the market to uncover problems. You might have to fix some things, but it's better than stalling your home sale. Be prepared with a list of things about the house that the inspection might miss, but you know of. For example, that crack in the cement deck that is covered with the lovely plant platform. List it.
6. Hire a full-service real estate agent.
You have enough to do without trying to suddenly learn another profession. Experience pays in home sale price.